We thought we'd do something a little different for this blog post. As you know, a home is so much more than the furniture you put inside it. It's about creating an atmosphere that not only represents your style but also how you want to feel in your home. Whether that's, dark and moody, warm and cosy or minimalist and bright.
1933 Galley Space
We've floated the idea of having an art gallery in store at The 1933 Furniture Company for the past couple of years. As a part of a more holistic approach to helping our customers make their house a home. We've got an extensive range of furniture pieces large and small, soft furnishings and lighting. So adding artwork felt like the next natural, organic step. Enhancing the vibe of the store, and offering customers something a little different.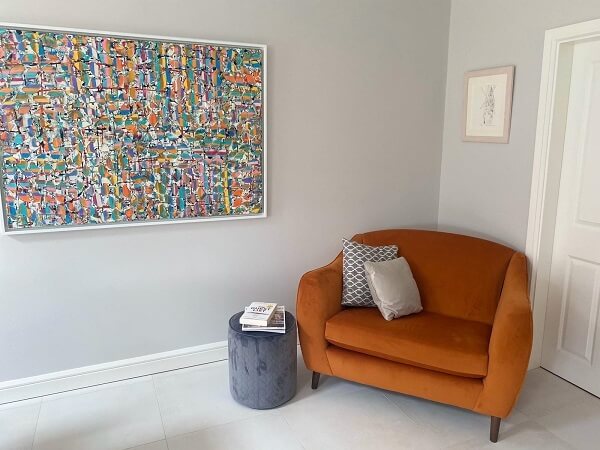 We knew a gallery is the only way to truly showcase art and the story behind each piece, as opposed to having artwork displayed around the store. We never found the kind of eye-catching artwork we were looking for until we saw Chris O'Hara and one of his pieces on Pippa O'Connor's Instagram. We immediately fell in love with his work, and we think that many people who visit our store would feel the same. After reaching out, we met up with him and found him to be very warm, grounded and passionate. We knew it was a perfect fit!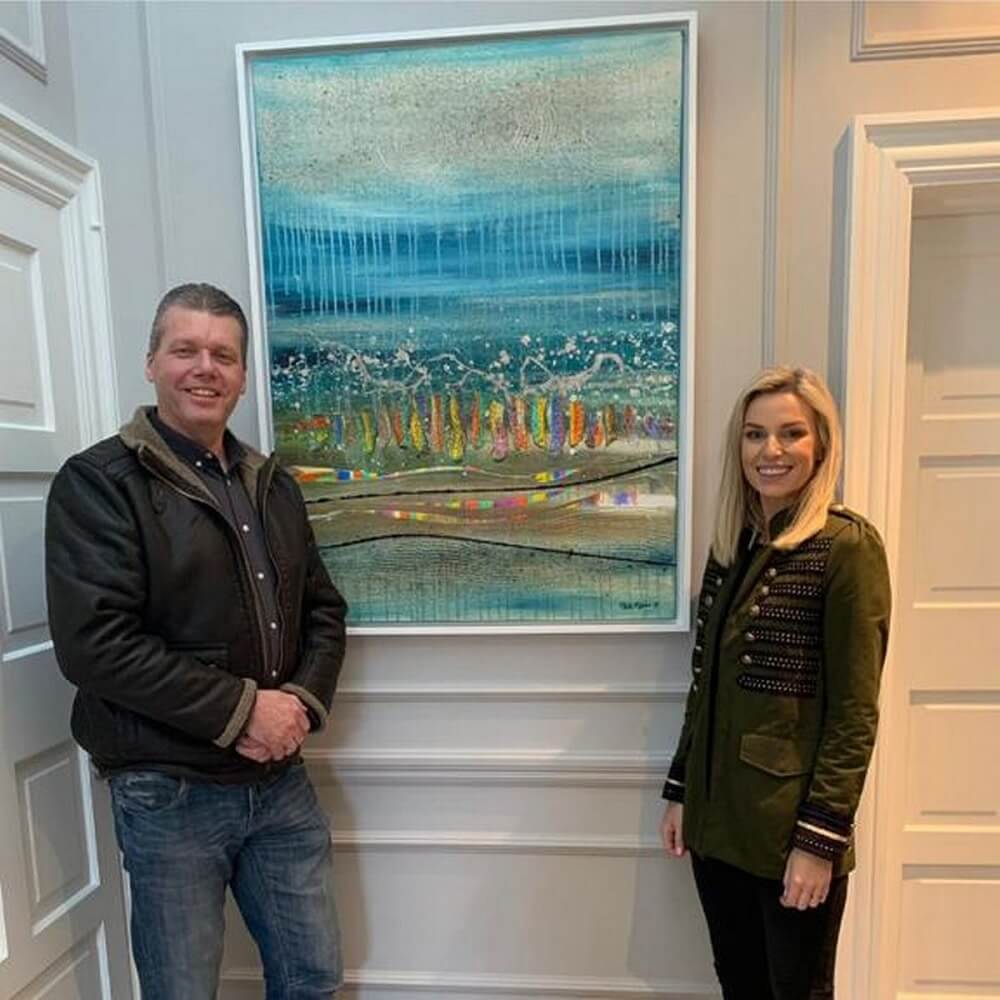 Introducing Chris O'Hara
Chris O'Hara of Dublin is a former entrepreneur and has been working as a full time abstract artist since 2014. Boasting a clientele of well-known Irish personalities such as Pippa O'Connor, Vogue Williams and Lucy Kennedy. He's even been commissioned by Royalty such as Zara Phillips, and Christy Moore. Admittedly, Christy Moore is not officially a Royal. But he's the closest thing we've got to the King of Ireland!
Best known for his multi-layered, large scale, abstract, geometric and modern paintings in acrylic and mixed media. Chris is an intuitive and organic painter. His pieces are bright, colourful and full of energy. Many clients say his paintings simply make them smile. No two paintings are the same. So you get a unique interpretation of pattern, shape, texture, colour and line with each painting. Chris probably best sums up his style saying, "It's a process of just letting go and having fun with the colours and the paint itself."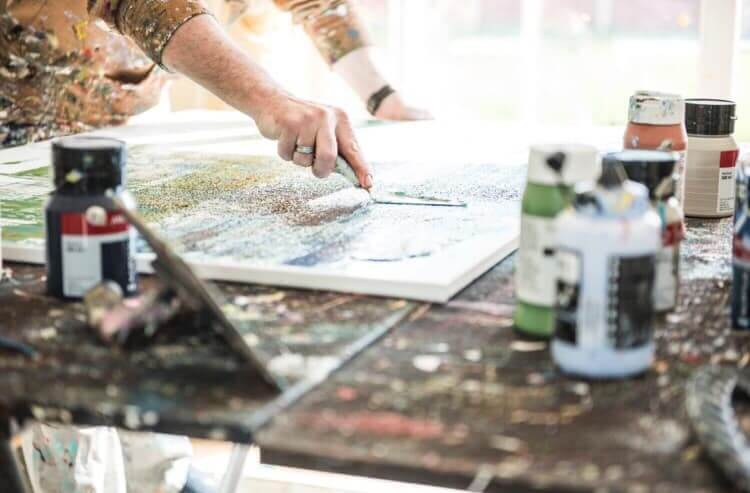 Art For The Home
Whereas furniture in the home meets the function, artwork invokes the feeling. Adding some personality to a room, enhancing the mood, light and attitude. As well as bringing the whole design and look together. Small art pieces are the best choice for the small rooms that have less free space. However, large rooms can carry off larger abstract, colourful paintings, as well as bouncing light around a room.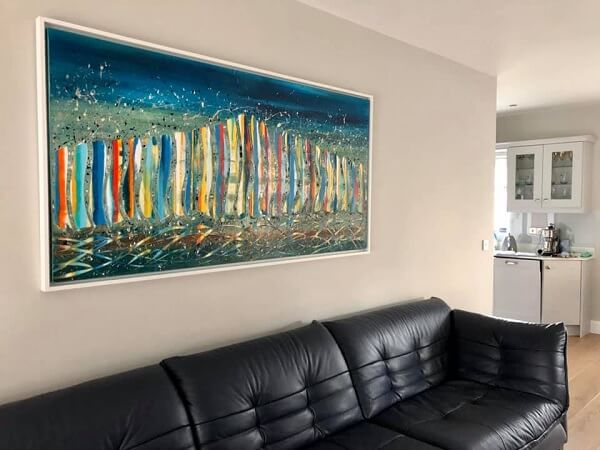 From his time travelling the country meeting clients in their homes. Chris has noticed living spaces have become more minimalistic and clutter-free. Whether the colour palettes are bright and neutral, or dark and moody. Most people are looking for a large piece of art that adds a splash of colour to a room. Or to bring all the colours together to create a cohesive look in the space.
Chris O'Hara at The 1933 Furniture Co.
We have curated a unique selection of Chris O'Hara's artwork in a variety of canvas sizes, available to view in-store in our dedicated gallery space. He's also been working on a new collection for The 1933 Furniture Company, designed specifically with the home and interior trends in mind, which we hope to launch before the end of the year. For original and unique art, especially on such a large scale, Chris O'Hara's work is very accessible. His pieces start from €650 and you can purchase directly from our gallery at The 1933 Furniture Company.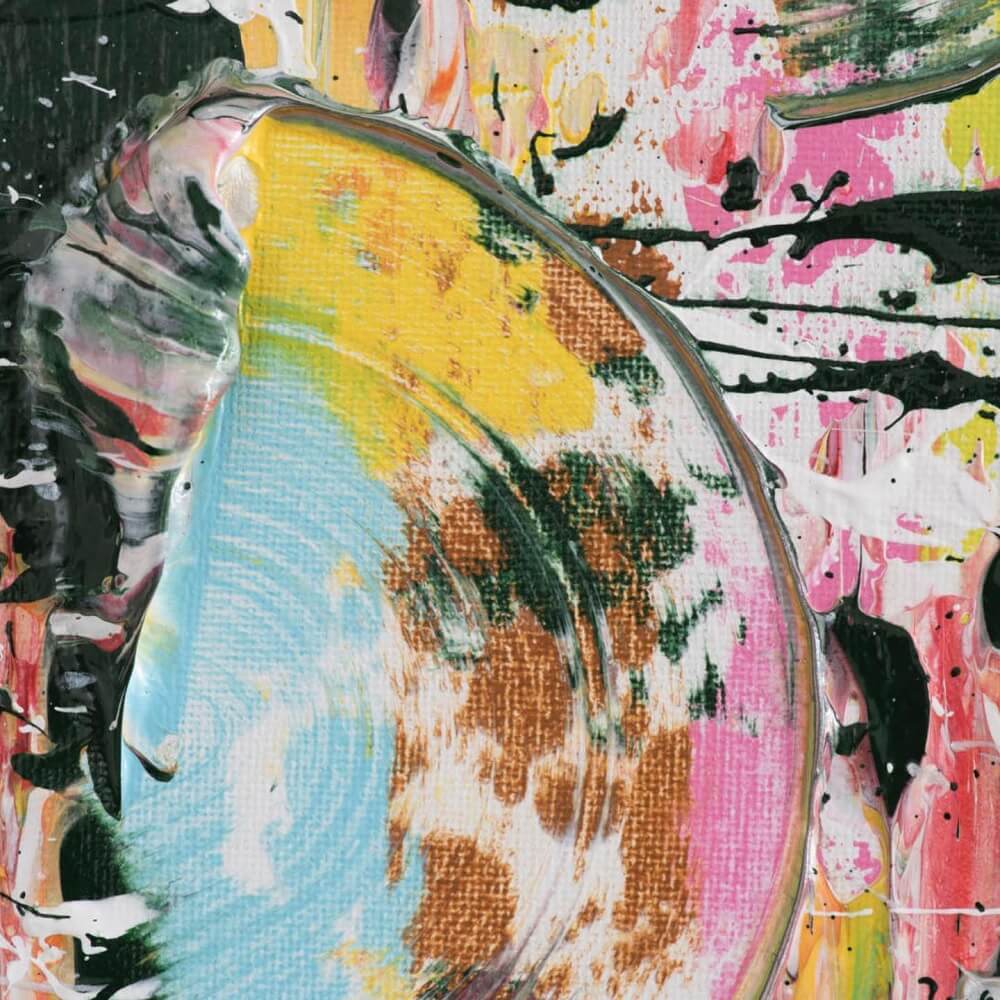 Bespoke Commission Artwork from Chris O'Hara
You can also contact Chris directly if you would like to commission a bespoke piece of artwork instead. He offers a free, no-obligation consultation and call out service to your home. And Chris looks after the delivery and hanging of the painting. See his website or social media for more details.
We really hope you enjoyed this post and feel inspired and a little more confident about purchasing art for your home. We're sure you'll love Chris O'Hara art as much as we do. We look forward to welcoming you back into our store and showcasing his new collection for The 1933 Furniture Company as soon as restrictions allow. In the meantime, we are still available to contact via phone or email.
Stay safe and well,
The 1933 Team!