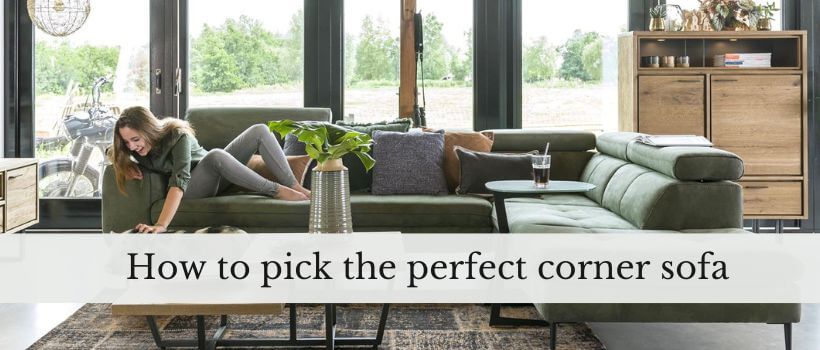 An L-shaped sofa can set the whole tone of a room, and if you want to make the right investment, there's no point cutting corners. You need to choose a sofa that's comfortable, durable and defines your living space — and is a dream to sink into after a long day. If you're shopping around or looking for inspiration, a corner sofa should be on your shortlist, ticking all the above boxes. But should a corner sofa be top of the list? Stretch out your legs and find out…
1) Grand stretch in the evening…
Ask any corner sofa convert for the number one benefit and they'll tell you, as Frankie says… "relax". L-shaped sofas can add a more social feel to a room — more than one person can stretch out, for reading or having a movie night, and the right angle means you have a more natural seating position for chatting to family and friends. And for a date night in, it's perfect for snuggling up with that special someone, as lazing together really does feel like a time-out. Even if you're by yourself, sinking into the corner and putting your feet up is the ultimate in relaxation after a long day. Who says "nobody puts Baby in the corner?"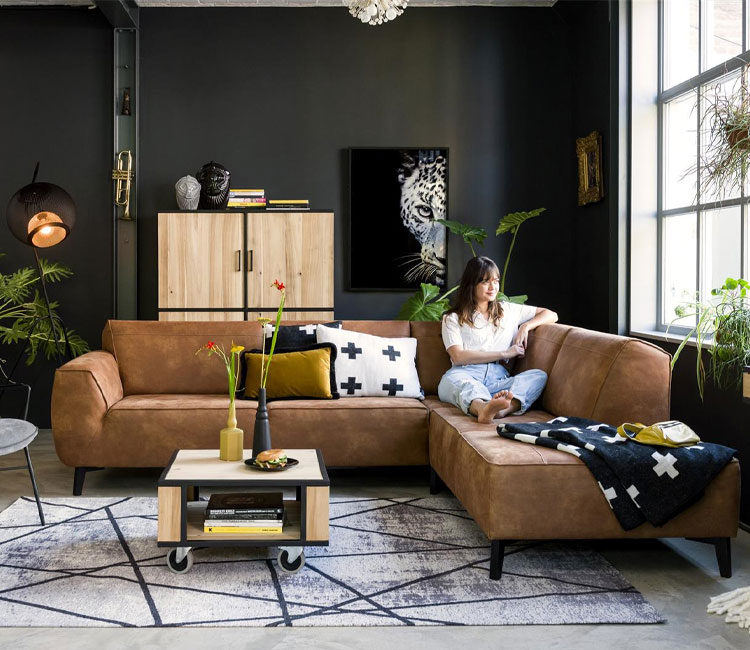 2) Sense of space
In practical terms, corner sofas don't clutter a room as much as a regular sofa and armchairs, so you can open up a lot more space in the middle of the room, making it look bigger. But your L-shaped sofa won't be limited to the corner — if you have an open-plan living space, it can really set a scene in the middle of the room, creating the illusion of distinctive areas. You'll soon realise that no space is wasted with a sectional sofa.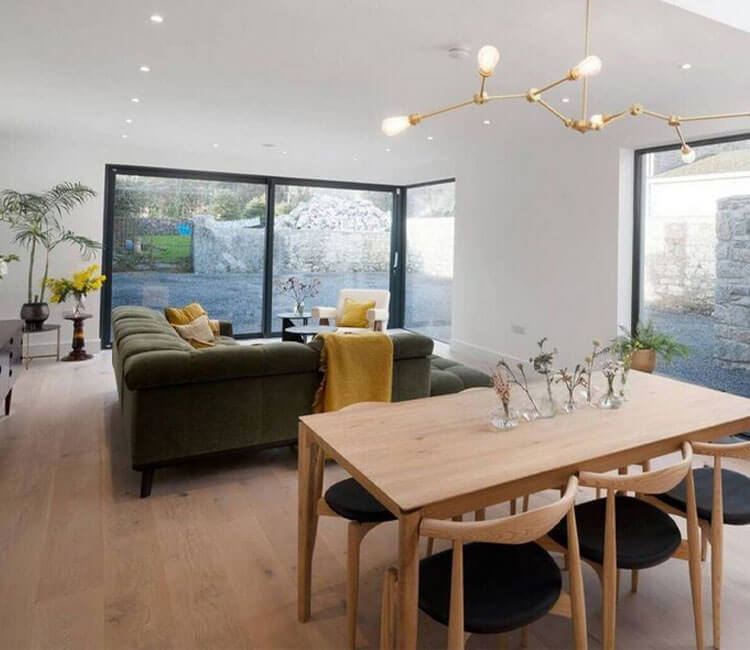 3) Get creative
If you've been sold on the first two points, you still have some dynamic possibilities ahead. Corner sofas come in a range of different styles to choose from, so consider which type would suit your room.
Sofa with chaise:  If your space is tight and your room just won't fit a corner unit. A sofa with a chaise takes up a lot less space and still has the luxury of lying out… A great way to make movie night the ultimate in relaxation.
Typical size: 250 – 280 cm x 160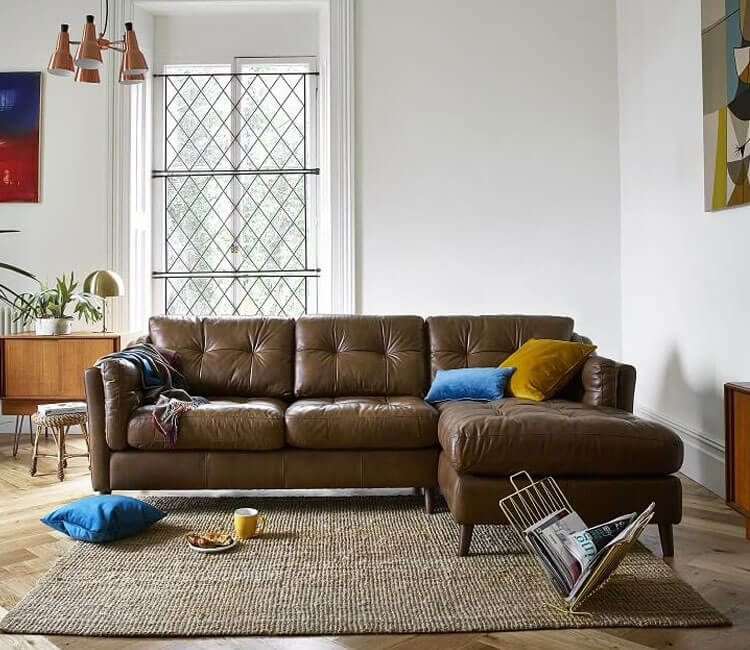 Open-end corner unit: If you have a little more space, an open-end corner unit might be the perfect solution. Sitting, lounging and watching TV from a lying position is all possible with an open-end corner unit. Typical size: 290 x 230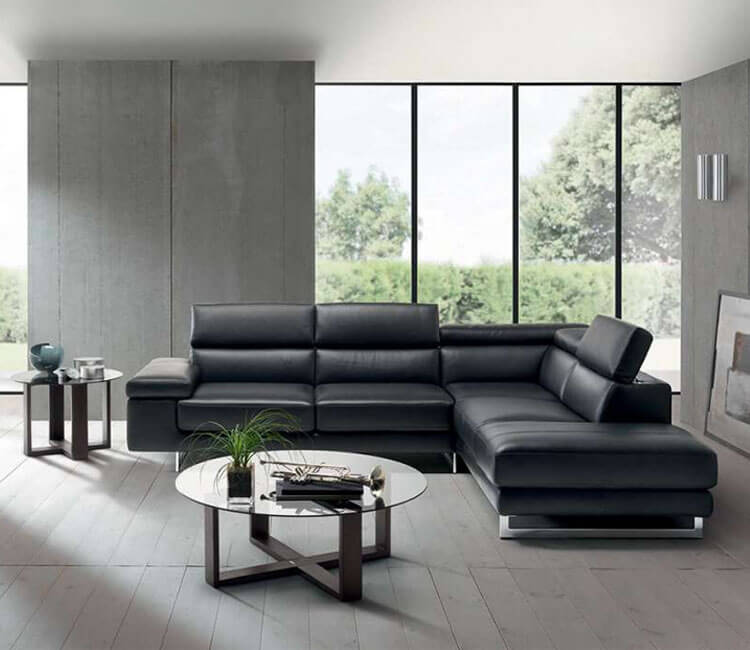 Closed corner unit: A closed-corner sofa offers a very classic look with the added benefit of a second armrest so it can accommodate more people. If you really want to take advantage of that relaxational aspect, consider adding a recliner at each end, and the middle, just be sure to check your room can handle the extra size. Typical size: 290 x 290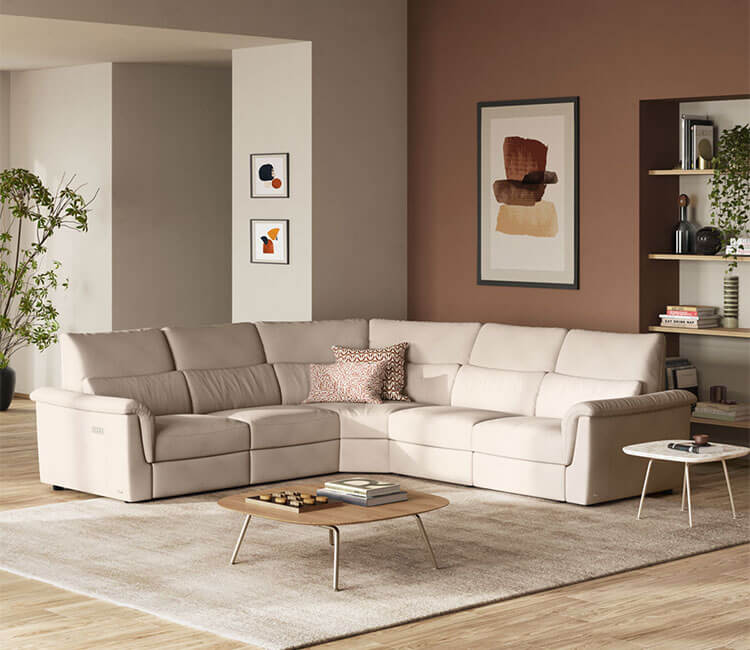 Modular: If you've got any hidden interior design talents, here's your chance to indulge your creative side. A modular corner sofa is perfect for an open-plan living area, as you can change the sofa's size to suit the space. — you can create an NYC loft apartment feel in your living room with some well-positioned modular pieces and a flash of inspiration!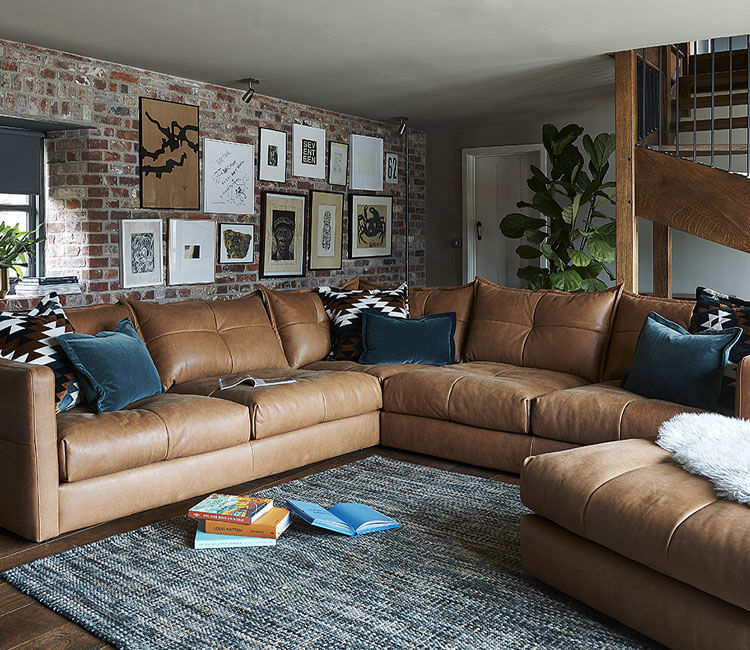 4) The right fit
Before your final decision, make sure your dream sofa measures up — it has to be the right fit for your living space. Remember your room should comfortably take a corner unit, don't be tempted to squeeze one in. If you're sure it will fit the space, it's time to get specific. Take some masking tape or newspaper and map out the size and shape of the furniture on the floor, and then take a photo. Walk around the room and see how the space will flow. You'll get an idea of what will and won't work — and you'll avoid any disappointing surprises later on! If you have some extra space, why not add an occasional chair to the room? It can add a splash of colour contrast, and give you a chance for more 'me-time', away from the kids using you as a climbing frame.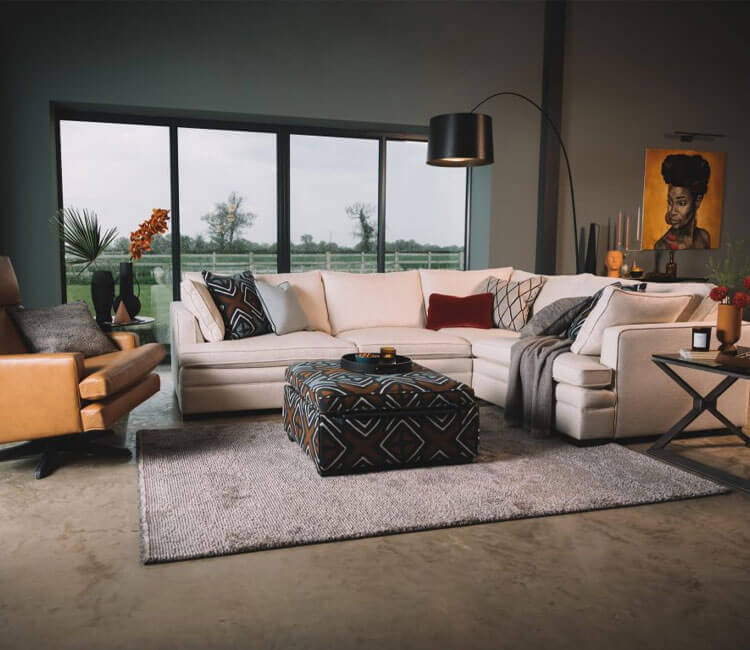 5) Colour & material
Once you've narrowed down the shape and size of your new corner sofa, you've got a few last important choices to make — what colour, and what cover? For material, your main choice is between leather or fabric, which we've covered in a previous post. Fabric sofas feel soft, warm and cosy, while protected leather is more hard-wearing and ages well, and is easy to wipe clean if you've got kids or pets to keep an eye on. 
Colour is your last chase to make a statement — whether that's the colour of the sofa itself, or complementary cushions. Mix sizes and shapes of cushions so your sofa doesn't look too formal, and think carefully about the colours — a well coordinated set of cushions can transform a room with a relatively small budget.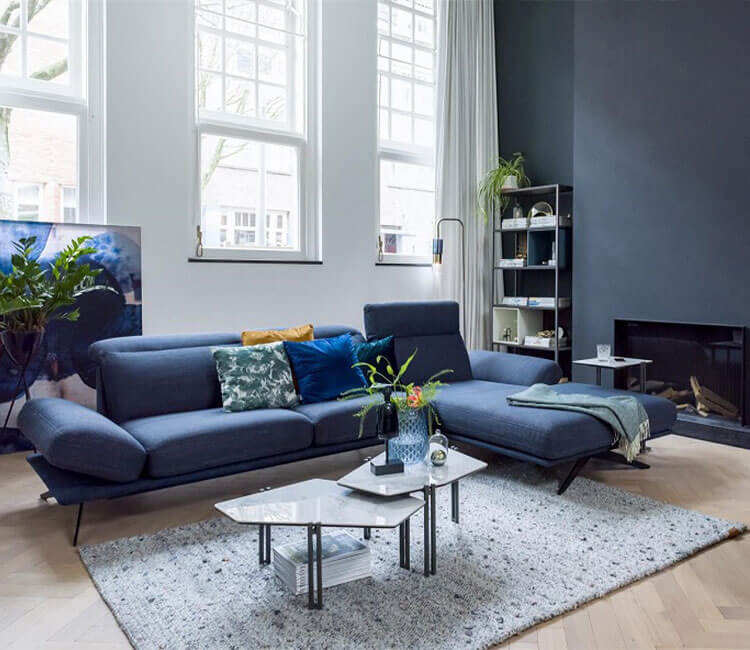 What Do You Do Now?
I hope this blog post has given you a few ideas, and a decision might be around the corner. If you need more help, be sure to check out some of our FAQs below or give us a call and of course, we would love to see you in-store! We offer a vast selection of corner sofas and every other style of sofa from the world's leading brands. Thanks for reading, and we look forward to helping you find the perfect sofa for your home.
Until next time!
Paula
Frequently asked questions
What are the main benefits of corner sofas?  One of the best things about corner units is that they allow you to maximize your living space. They also make a room super cosy and great for chats.

Does a corner sofa have to go in a corner?  Most corner sofas go against a wall and into a corner to maximize space. If you have an open-plan living space, corner sofas can be used as a visual room divider to create the illusion of distinctive areas.

Are corner sofas comfortable?  Comfort is so personal, but there is no doubt that lying down and putting your feet up is the ultimate in relaxation.

Is a corner sofa good for a small room?  Corner units require space, so it might be better to have a large sofa with a chaise in a smaller room

What is the difference between left and right-corner sofa? If you are facing a sofa with the arm on the right-hand side, this is a right-corner sofa and visa versa for a left-handed facing sofa. 
Will a corner sofa fit in my room? Corner sofas come in a variety of specifications and be customised to fit into your room. For example, modular are easily delivered into tight rooms and assembled in the space. Always speak with a furniture expert to help choose the right size sofa to fit your space.