From sitcoms, chat shows and movies, much of our favourite screen drama happens on a sofa — but it usually just blends in with the rest of the furniture. But (cue 80s movie trailer voiceover), in a world of overpaid actors, what happens when the sofa refuses to take a back seat, and becomes the star of the show? When it's more than just about getting bums on seats? Here's a list of 10 times the sofa refuses to fade into the background.

And….action!
1. The Sopranos – Meeting of minds sitdown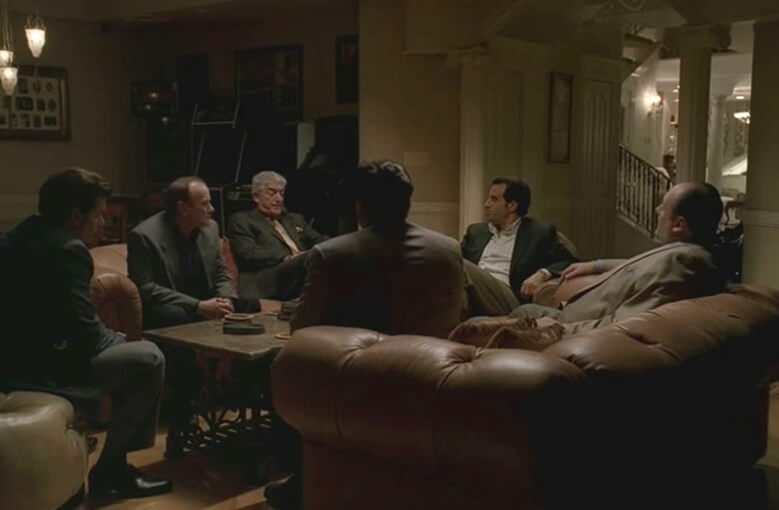 You don't need to be a wise guy to know this Chesterfield sofa is a classic, so sink in and open up the room to deep conversation. Let's just hope when you have visitors over for a 'sit-down' that the stakes aren't as high as this attempt by the crime families to call a truce.
Why we love it: It's a simple, iconic and classic sofa design. It looks comfortable enough to take the edge off a tense meeting, and will age better than Paulie's one-liners.
Get the look: We can make you an offer you can't refuse with Halo Chester sofa or Hugo sofa by Alexander & James, available in a range of sumptuous leathers.
2. Friends – Monica's Couch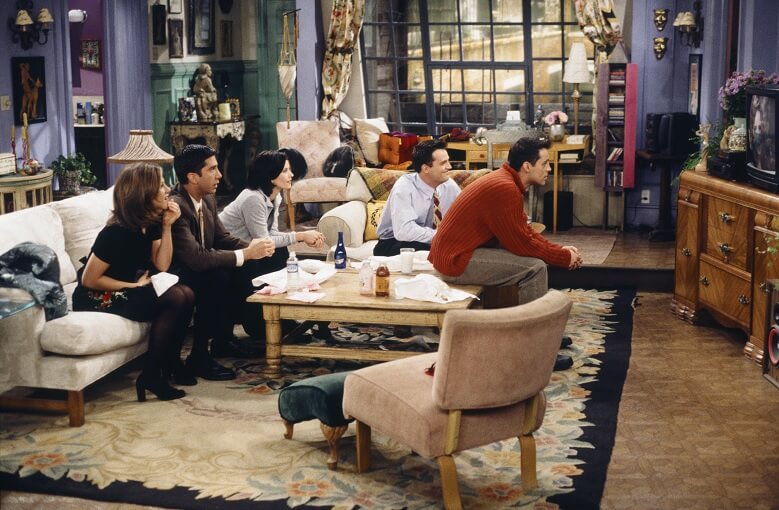 From eye-rolling at Joey, simple gossiping or hatching plans, Monica's sofa was the Friends' favourite hangout spot. Every group has their go-to space (well, not now, but soon) and Monica's apartment hit the spot. Whether you're single, in a relationship or on a break, this sofa would give you years of love.
Why we love it: It's the perfect comfy, casual sofa to fall into. And because it's neutral white, the room's vibrant colour scheme leaps out. Then again, a white couch won't be pet/Marcel-proof!
Get the look: If you share Monica's eye for detail, then look to Neptune for inspiration. They have a modern take on classic furniture that works seamlessly together and is as dependable as a best friend. It's no coincidence that Neptune's best selling sofa is even called the Long Island, where Monica grew up with her best friend Rachel.
3. Mad Men -— Mid century modernist marvels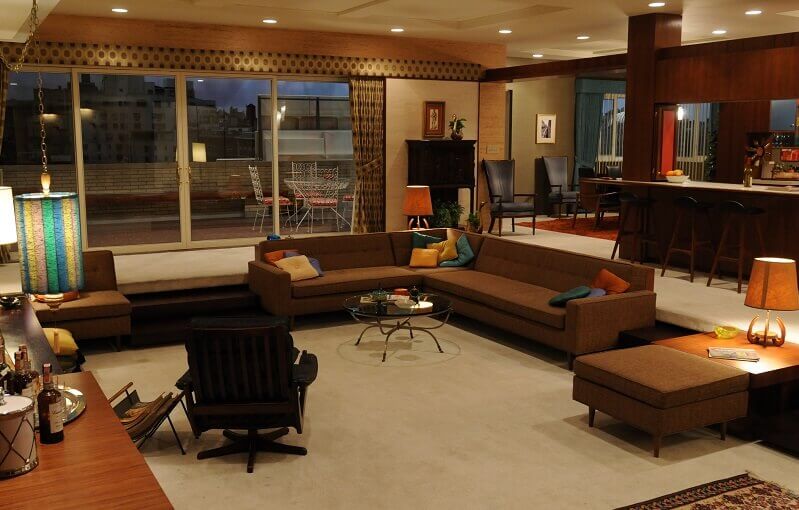 You don't need a snappy Don Draper ad slogan to convince you of Mad Men's glorious mid-century modernist interior design — when the sofa was always the star. Mad Men was always as famous for its style as its plot, and we'd just love to sink into one of those grand sofas with a freshly poured old-fashioned cocktail.
Why we love it: Those clean lines and timeless contemporary feel.
Get the look: Natuzzi are renowned for its sleek Italian design and have a range of retro and mid-century styles. Pasquale Natuzzi began his furniture design journey in 1959, and he still manages to capture that mid-century magic decades later.
4. New Girl – The loft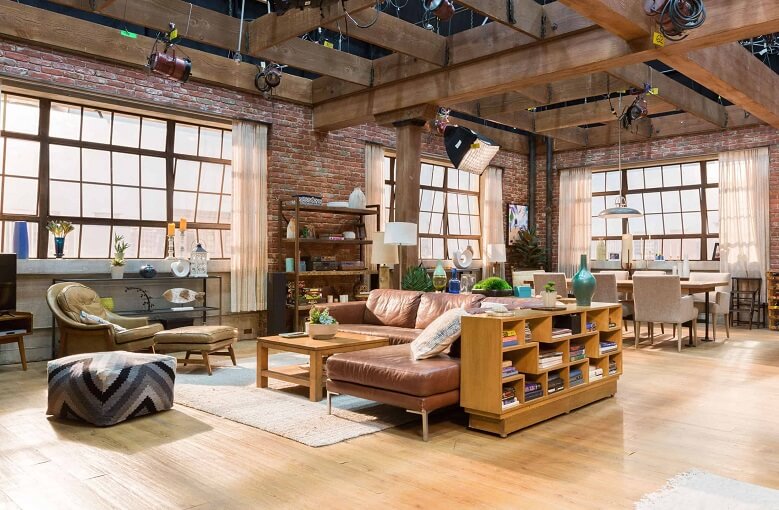 Who knows how Jess, Nick, Schmidt and Winston can afford loft apartment 4D in LA's hipster arts district, but we're all so busy ogling the cool space that we forget these little details. The show's set designers really have captured the ultimate cool modern space.
Why we love it: That creative open-plan loft apartment feel, that's never going out of fashion.
Get the look: For effortless cool, XOOON is your go-to spot for scaling loft-y heights. Stylish accessories by Coco Maison can complete the look.
5. Oprah's Couch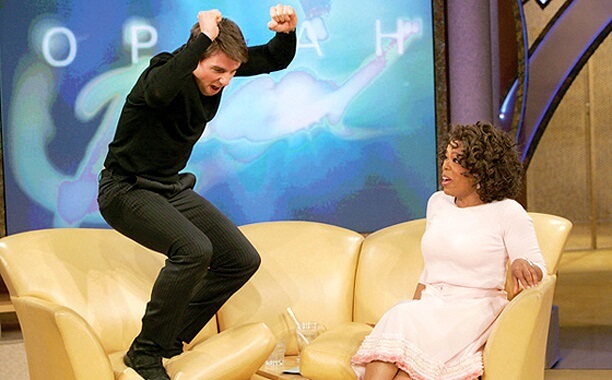 One of the most iconic pop culture moments of our time starred a sofa — and let's just say it was a springboard to Tom Cruise becoming even more (in)famous in 2005. As Tom bounced up and down on the couch declaring his love for Katie Holmes, furniture lovers like ourselves winced in horror at the potential damage.
Why we love it: Can't say we love the look here but it really does look soft and bouncy' it could really give you a lift in the evenings.
Get the look: Unless you want your kids turning your living room into a bouncy castle party the next time they're over, avoid this one!
6. Sex and the City – Carrie Bradshaw's sofa
Carrie Bradshaw's amazing walk-in wardrobe may have got the lion's share of the jealousy points in Sex and the City, but her whole apartment, and especially her sofa, was its own cool NYC character — with a proper lived-in, relatable quality.
Why we love it: That understated luxury is just full-on classy.
Get the look: We can't promise you a celeb circle gossip column, but a Collins and Hayes sofa can make you feel more like Carrie.
7. Somethings Gotta Give – Beach house luxury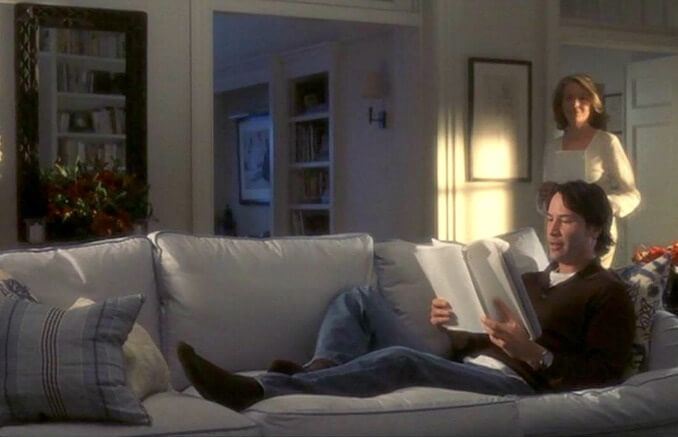 Diane Keaton's upmarket beach house in the Hamptons sets up all the best scenes in the classic 2003 romantic comedy. Whether it's Jack Nicholson pontificating, or Keanu Reeves as Diane's younger love interest lounging and having a read. We could spend forever on that sofa wondering if she made the right decision…
Why we love it: It's an upscale classic — imagine drifting off with a paperback on your chest, listening to the waves through an open window.
Get the look: It has to be Neptune for some Upstate New York sophistication. Comfortable, classy and casual all in one. If only Keanu was included…
8. The Simpsons – Joke still not threadbare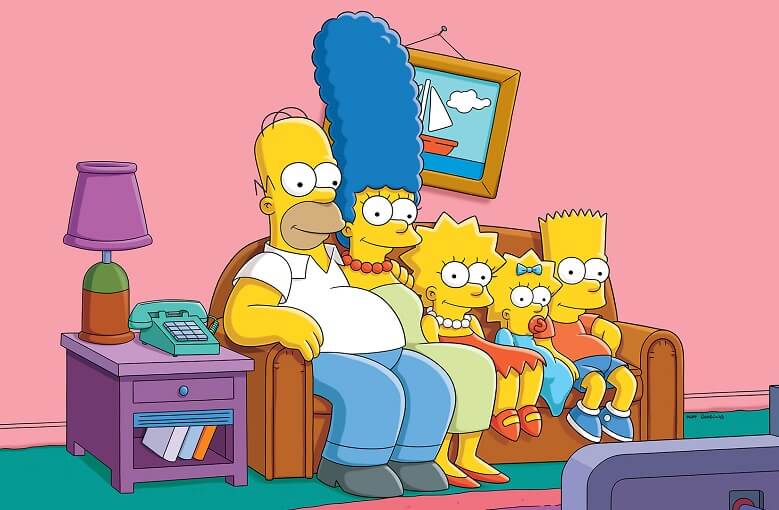 If your sofa lasted as long as the famous 'couch gags' in the Simpsons' intro, you'd be a happy customer. The Springfield family's homely brown sofa is a no-nonsense, dependable family piece of furniture that's function over form — but it always looks like the perfect spot for watching TV.
Why we love it: Comfortable enough to keep a crackpot family at bay while watching TV, and durable enough to survive Homer's Duff beer stains.
Get the look: We're not sure if Marge and Homer went for these luxury materials, but a sofa in brown is an instant classic.
9. Breakfast at Tiffany's – Mid-century quirky glam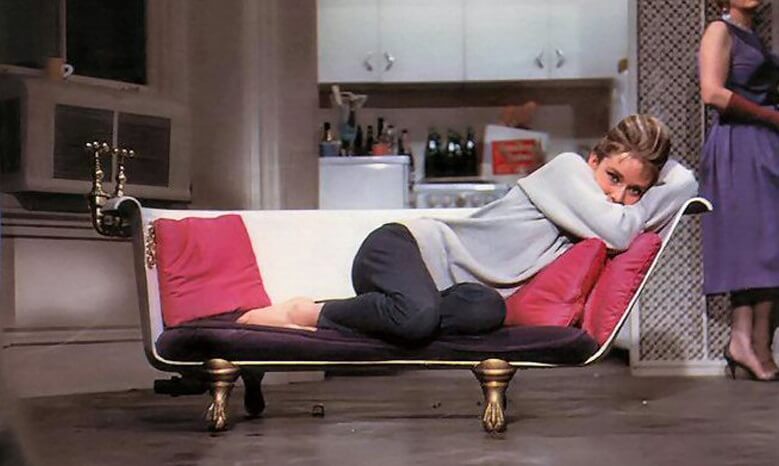 Was Holly Golightly the first New York shabby chic screen hipster? She checks a few boxes with her luggage storage bins, makeshift crate coffee table, and this delightfully bizarre sofa that's cut from a clawfoot bathtub. In fairness, Ms Golightly could look impossibly elegant curling up in a Tesco trolley.
Why we love it: Just the what-the-hell impracticality and coolness.
Get the look: Call us old fashioned, but we do believe baths are for, well, baths. Unless you're trying to score hipster points or you run an Audrey Hepburn Instagram tribute account, this one just isn't practical.
10. Frasier – Martin Crane's chair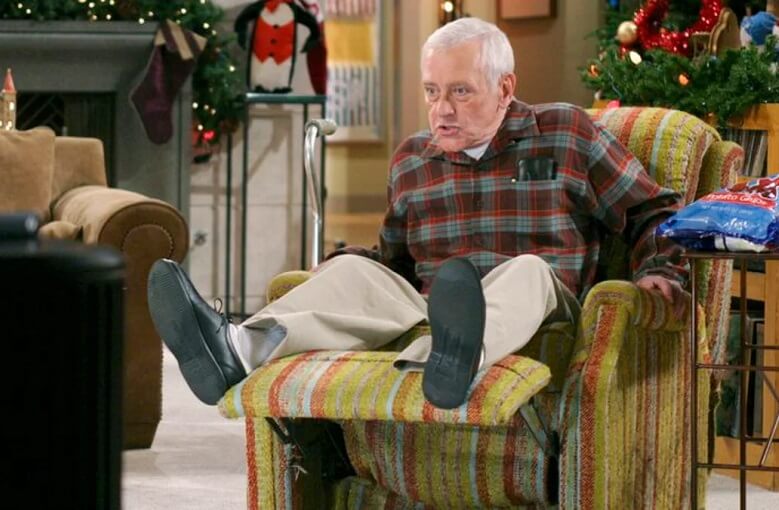 Let's face it — most of us have a piece of furniture that's seen better days, and wouldn't make a fiver in a car boot sale. But there's something comforting about an old sofa or armchair that's literally become part of the furniture. Up against his sons Frasier and Niles' flamboyant refinement, Martin's hideous green striped chair was the heart of many of the sitcom's most iconic scenes.
Why we love it: A classic case of looks don't matter, and the joy in familiarity.
Get the look: Seriously, let's not go there…
That's a wrap
From understated contemporary cool to timeless classic, we love taking inspiration from the screen — and we can help you match a look from your favourite shows. We might draw the line at a grotty green striped armchair, but we'll do our best! Enjoy up to 50% off our sofa sale our sofa sale today and Let us know how we can help. we can introduce you to some of the star attractions in our sofa showroom.
And if you think we've missed any of your favourite sofa screen stars, let us know in the comments!
Until next time,
The 1933 team.