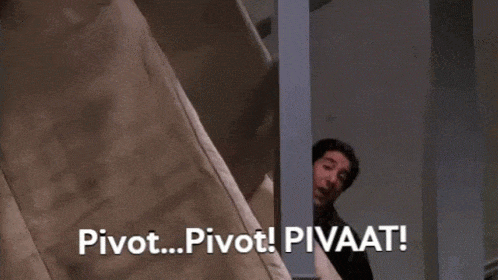 You've just gone through the process of picking the perfect piece of furniture for your home. Maybe you settled on a fabric or leather sofa, or perhaps you absolutely know you want an L-shaped one big enough for the whole family. A detail you may have overlooked with all the excitement was whether it would fit in your house or apartment! And we don't just mean in the living room space, we're talking about how it will manoeuvre through narrow doorways, hallways and perhaps even stairs. 
In this practical guide, we'll cover all areas to be considered when buying a new sofa, so you can make the best possible choice for the space you have. If you're scratching your head thinking, "will my sofa fit in my house?" keep on reading. Don't worry, you won't be stuck on a staircase screaming "PIVOT!" with our expert help. 
1) Will my sofa fit in the room?
This is where a little imagination and some masking tape are required in equal measure. Look at the space you have and take some measurements of where you want it to go. You can do this by laying down newspaper on the floor and taping it down in the shape and size of your desired sofa. Consider the other piece of furniture in the area. After all, you don't want your nose touching the telly.

An expert team tip:  Remember that it's not just about whether it technically fits. You still need to be able to use the room and ensure that the furniture isn't taking up all of the space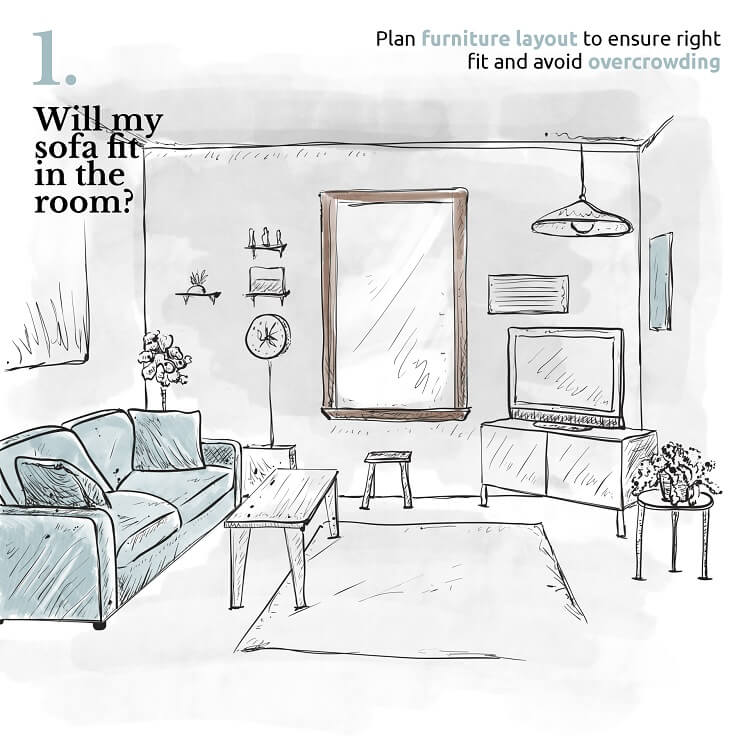 2) Will my sofa fit through the doorway?
Consider the dimensions of your sofa vs. the space in the home.  The Irish "sure, it will be grand" won't cut it here. The delivery team are good but they can't work miracles if it just won't fit! Remember, it has to come off a delivery van and come through many spaces to get to the living room. Will it fit through door frames, corridors, hallways, stairs and landings? We know it sounds a bit overwhelming and there is a lot to consider. However, with a bit of preparation, the delivery day can go off without a hitch. 
An expert team tip:  To help prevent any delivery day disasters, look for information on the dimensions of each item of furniture. All of our listed sofas come with their specific dimensions in the product spec sheets, showing you all the individual specifications from a particular collection. Keep in mind that the legs of sofas often come separately, so take this into consideration when measuring the overall dimensions.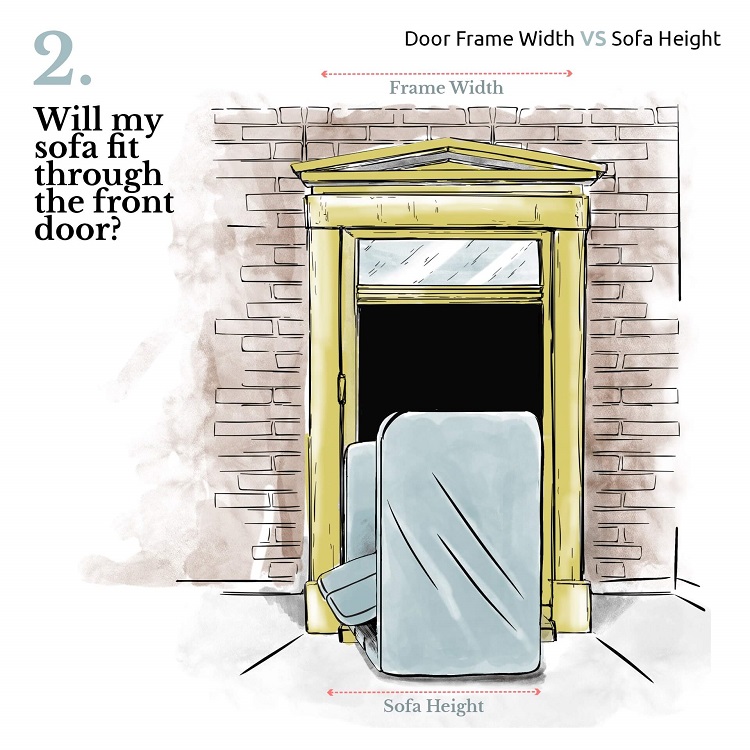 3) Will my sofa fit upstairs? 
If you're putting your sofa to a room upstairs or apartment, measure the width of the stairs against the the height of sofa. Other things to be aware of are handrails, light fixtures and fittings and anything else that could potentially obstruct a clear pathway.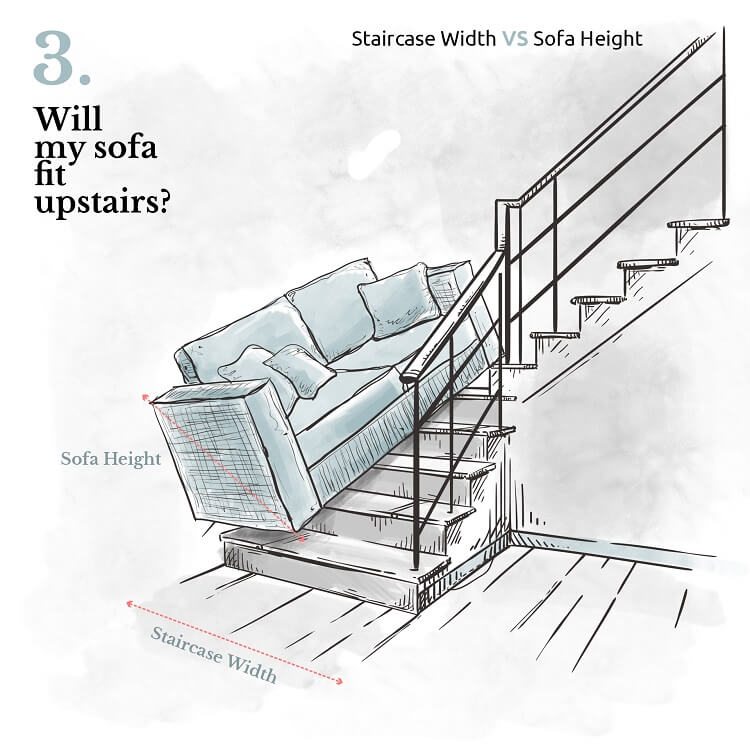 4) Will my sofa fit in the elevator?
Living in an apartment block shouldn't mean that you miss out on getting the gorgeous new sofa you've been eyeing up. We think everyone deserves a luxurious sofa! So, what do you do? Be prepared by making sure the sofa can be stood upright, and be aware of the maximum load allowed (including people). 
An expert team tip: look out for sofas that can be ordered in small combinations to avoid a staircase Ross Geller moment.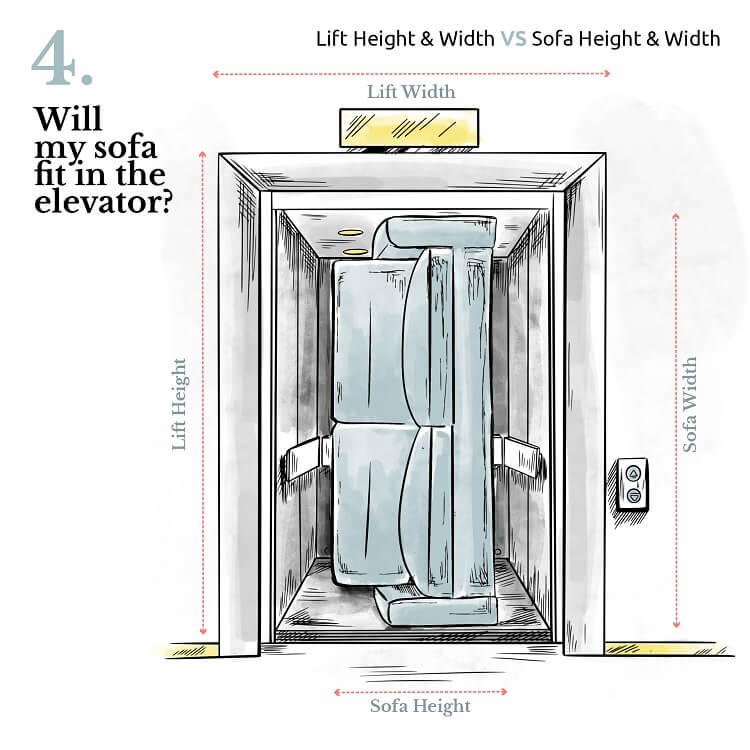 5) Finally, dreaded turns…
We think that corners and turns are the real villains when it comes to fitting your new sofa. Be mindful that your new sofa may need to be stood upright, from floor to ceiling to fit into the chosen room – is that possible? Make sure to check the doorway frame height vs the length of your sofa and you should be all set!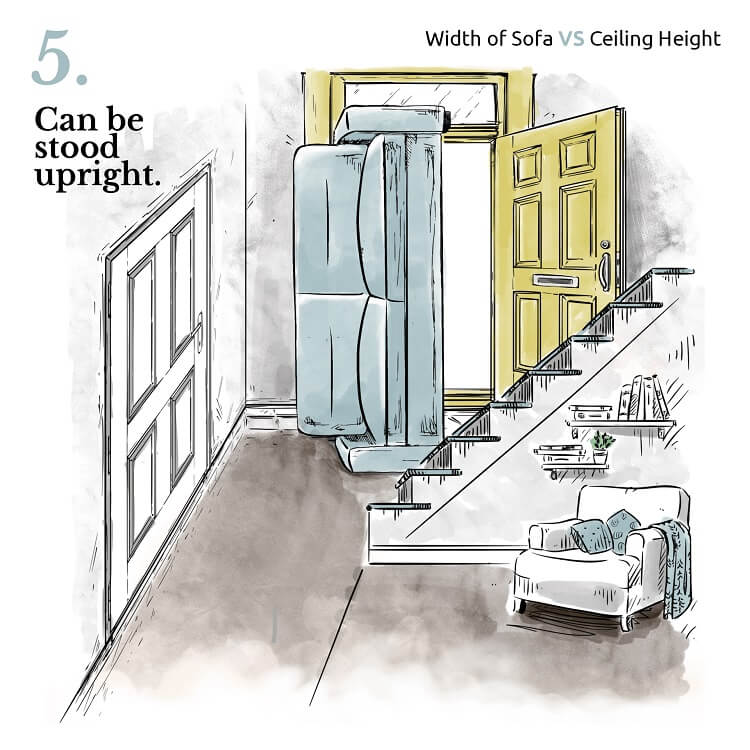 After all of that, what to do if your couch doesn't fit? Try not to stress or panic. Our team will try their best to come up with a solution for you. However, you won't need it, will you? You should be well equipped now to confidently buy and arrange delivery of your new sofa!
If customers are still unsure, we ask them to send a video and pictures, and if needed, our delivery drivers can visit the location to evaluate access. Honestly, this stuff is our bread and butter so get in touch, we'd be more than happy to walk you through each step of buying a sofa, from viewing our store, to placing your order and organising delivery. 
Until next time, happy shopping from all the 1933 Furniture Company Team.