If our dining tables could talk… we're sure they'd have a lot to say! After all, it's where family, partners and friends gather to not only eat but spend quality time together. This special space is truly the heartbeat of the home! From slow Sunday morning breakfasts, candlelight dinners interrupted by the pitter-patter of tiny feet above, game nights that always end up in an argument, and everything you can think of in between.
The dining table will experience so much in the span of its life, and as a key piece of furniture, it's good to remember that it's a genuine investment. You'll want something that will not let you down in a couple of years, and that can withstand… life! Because let's face it, life is messy and chaotic at times. Not only that, you want the table to be the focal point of your home. A place that people gravitate towards.
Much like choosing a sofa, knowing exactly how your dining table will be used throughout the week will determine what size, shape, material, and table style will best match your home. To help you get a better idea about what you'll need, we've broken down the seven most important areas of consideration to help you find a table that you will love for many years!
What this article covers:
Size – what size table suits best
Shape

– will shape be a factor

Use

– who will use the table and how

Dining chairs

– fabric or leather 
1) So, does SIZE matter?
In picking the right type of dining table, size is everything. Before you make any other decision, you need to look at how much space you have to work with. It's time to get the measuring tape out. Measure the proposed area for the table and allow plenty of room to manoeuvre. If you absolutely love a design, but it's wedged into the space, get it off your list! I know it may be disappointing, but you're setting yourself up for years of gymnastics, body contortions and plenty of stubbed toes. Our eyes are watering even thinking of that last one.
 The 1933 team top tip: give yourself at least 50cm-70cm of breathing room on all sides to comfortably sit in a chair and move around the space.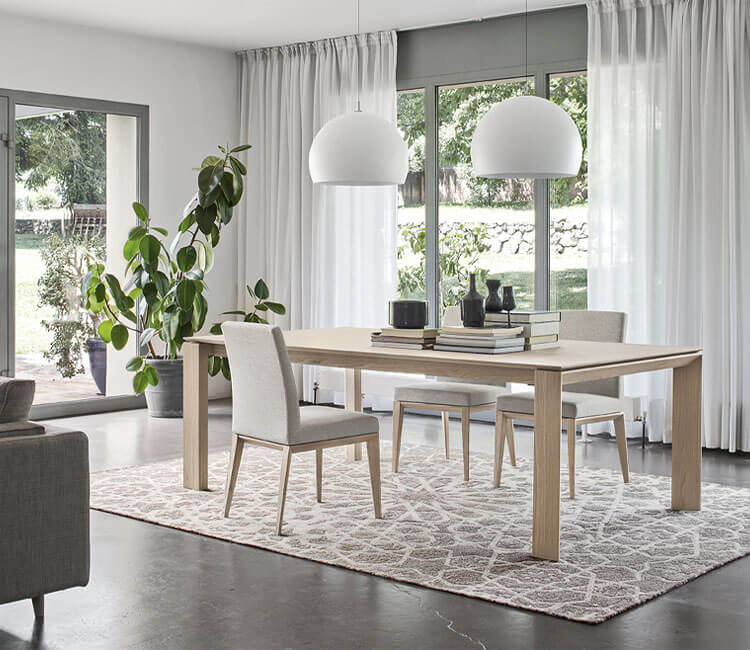 2) Better SHAPE up
You'll already know the four most common dining table shapes; square, rectangular, round and oval. Of course, you'll want to factor in what your preferences are. However, consider the golden rule; choose a table based on the shape of your room. For example, square and circular tops work better in square rooms while rectangular or oval-shaped tables best suit rectangular rooms. In each case, the curved nature of round or oval tables visually appears to occupy less space, so to the naked eye, it makes the room look bigger – ideal for smaller rooms.
●   Rectangle Tables: the most conventional and popular choice. Bonus: you'll have the widest choice of options if you go for a rectangular dining table.
●   Round Tables: more intimate, cosy and informal. Bonus: there's no "head of the table", so everyone will seem a lot closer.
●   Oval Tables: just as practical for seating arrangements as rectangular tables. Bonus: saves more space than a rectangular table.
3) What's the USE
What you think you want and what you need, may not be the same thing. As we said before, you may have an idea in your head about your dream dining table. But is that practical? Is it going to work in the space that you have? We've come up with some questions that you can ask yourself when you're considering what type of dining table is best. We hope they help!
1)  What is the dining table going to be used for, day in and day out for the next 5-10 years?
2)  Do you have a separate dining room?
3)  Will your dining table be in full view in an open-plan living area?
4)  Do you want the table to be the focal point of your home?
5)  Is this going to be your "show-stopper" piece?
6)  What is the table's function? (Breakfast, lunch and dinner spot. The homework hub! Working station. Arts & crafts corner)
We're sure there are many more! These things will affect your decision in picking a table and will guide your choice of materials, style and finish.
4) MATERIALS and FINISH
Aesthetically, the material and finish you choose for your dining table will influence the room's atmosphere and the overall impression the space gives. There is another, and arguably, more important reason picking the material and finish should be a careful and considerate choice. The durability and functionality of your choice will be a deciding factor on whether your new investment piece will last and stand the test of time. The most obvious example here would be if you have young kids. Of course, having children shouldn't stop you from having a stylish and tasteful home. The good news is that there are so many options out there, so you never have to decide between style and practicality. Below you'll find a breakdown of our most popular materials and finishes for dining tables
●   Ceramic: this is the perfect practical choice and is one of our most popular and contemporary looks. It's easy to clean and doesn't absorb liquids, and it's also resistant to damage from random food spills and crayons when they go way… way outside the lines!
 The 1933 team top tip: Calligaris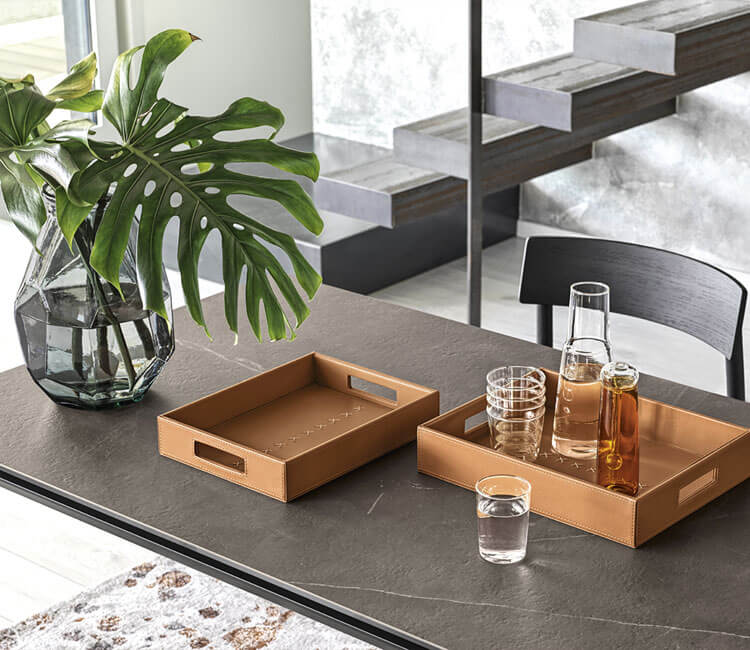 ●   Glass:  A transparent glass dining table creates the illusion of bigger floor space and can brighten up a room, giving your space a lighter vibe. Glass tables work particularly well with a statement base so that you can see the beauty of the base. They're also low-maintenance as it's easy to wipe. However, transparent glass can scratch over time, so consider anti-scratch glass options, which come in beautiful matt glass colour choices.
The 1933 team top tip: Bontempi Casa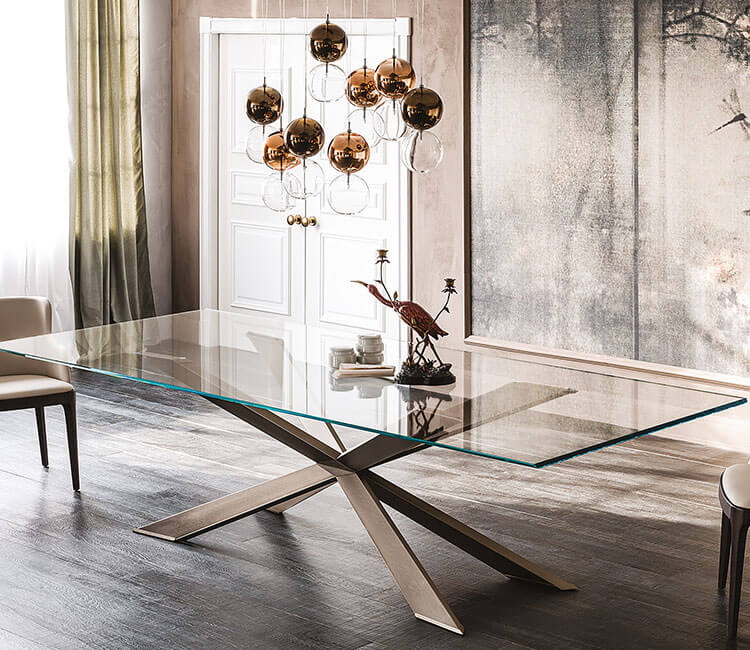 ●   Solid Wood: Nothing feels like solid wood. It shows all the knots, texture and variations of the original wood, so no two pieces are exactly alike, giving each piece a unique character. It's also hard-wearing, but there are some considerations to keep in mind such as its vulnerability to sunlight or spills.
The 1933 team top tip:  Neptune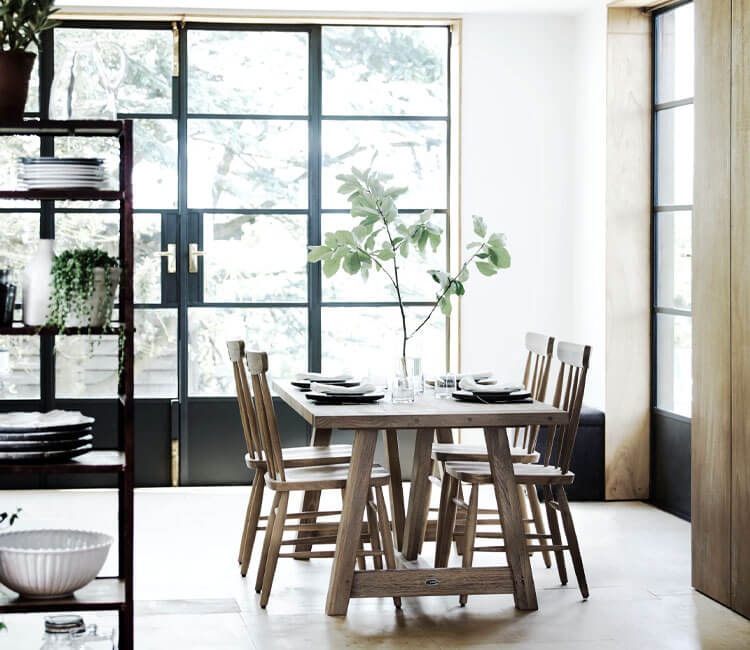 ●   Veneered Wood: A veneer covering is designed to have the appearance of solid wood and if well made, it can be as durable as solid wood but won't warp in areas of sunlight and heat.
The 1933 team top tip:  Danish Design House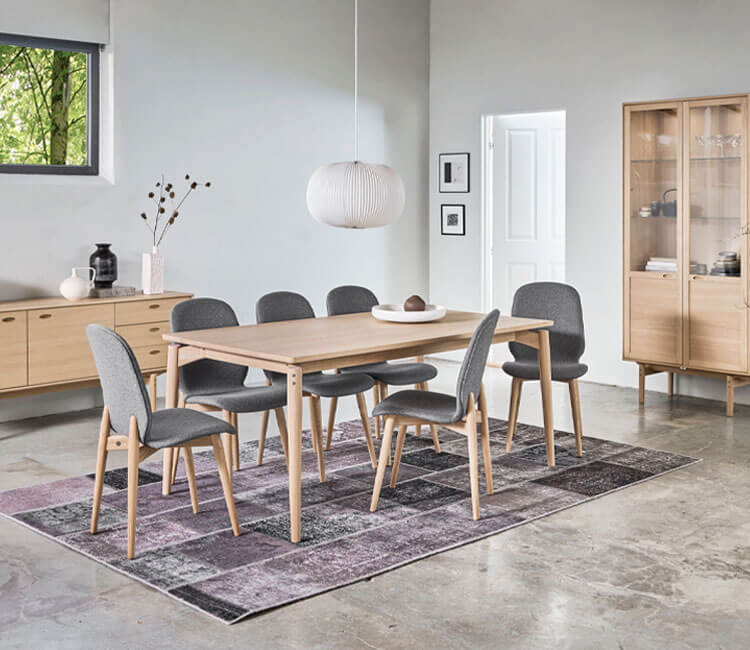 5) Choose your CHAIRS wisely 
Eating is and has always been, a social experience. Only in later years, with the busyness of life have we adapted to eating and running out the door or moving on to the next task. We are social creatures, and that's why when we are around a table of friends and family, we feel happy and content. You want your dining chairs to be comfortable, as a comfortable seat will encourage gathering, conversation, laughter and extra top-ups of your glass! For added comfort, consider chairs with arms and a Flex back. Similarly to picking a leather or fabric sofa, also think about the most suited material. Choose wisely, and you'll set yourself up for a lifetime of relaxing dining and socialising!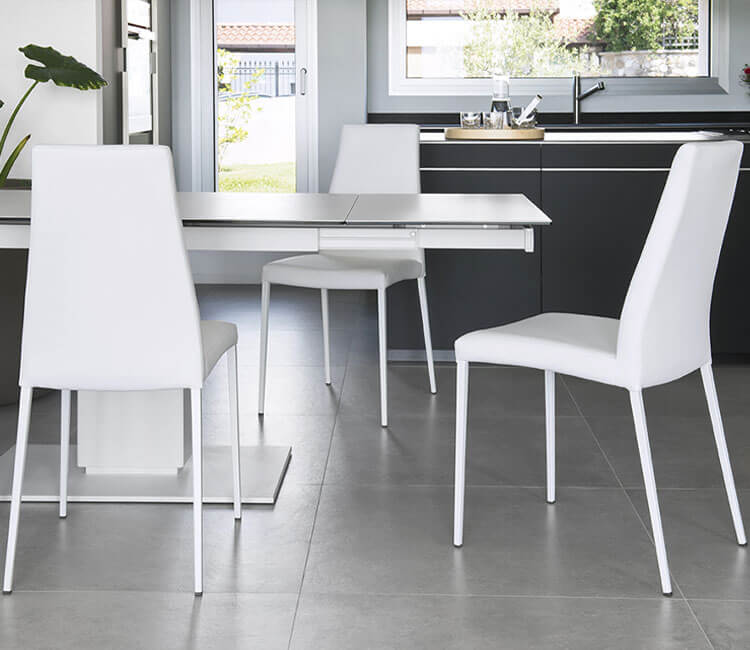 6) EXTENDING or FIXED
We are all about making the most of a space. Your home should work for you, and there are some clever ways that you can optimise your space, such as picking an extending table with a hidden extension leaf that can be called into action on special occasions – perfect if you're inclined to host dinner parties with friends and family. If your dining area is tight or you have the luxury of space, consider investing in a fixed table design that suits the space perfectly.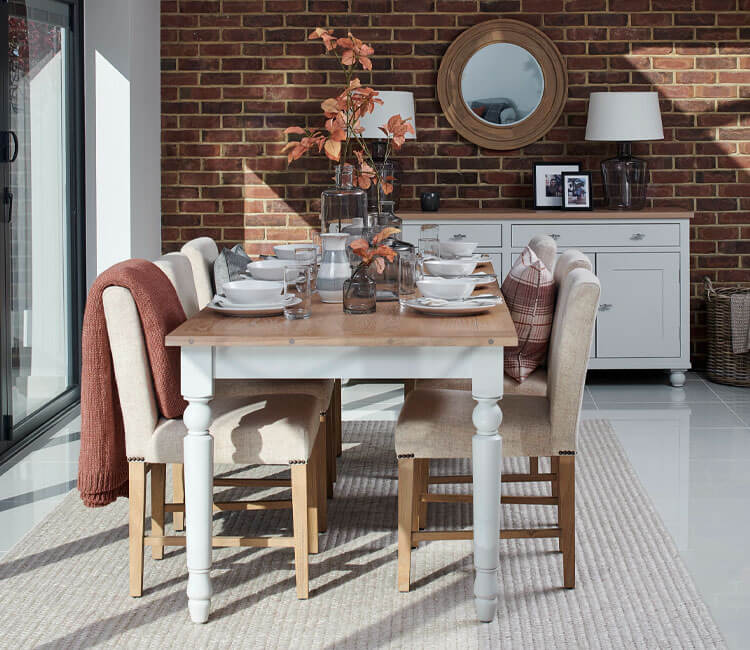 7) It's all about the BASE
Choosing the base of your dining table will affect not only the seating arrangement and how people are positioned around the table but also how much legroom people will have. Four legs or X legs can often limit where you can sit, while the whole circumference of the table can be used with a pedestal or a drum base.
The 1933 team top tip: Sit at a table you're considering and see if your legs hit the table's legs. Make sure you have enough space for your knees when you scoot all the way in, and if you can cross your legs underneath the table.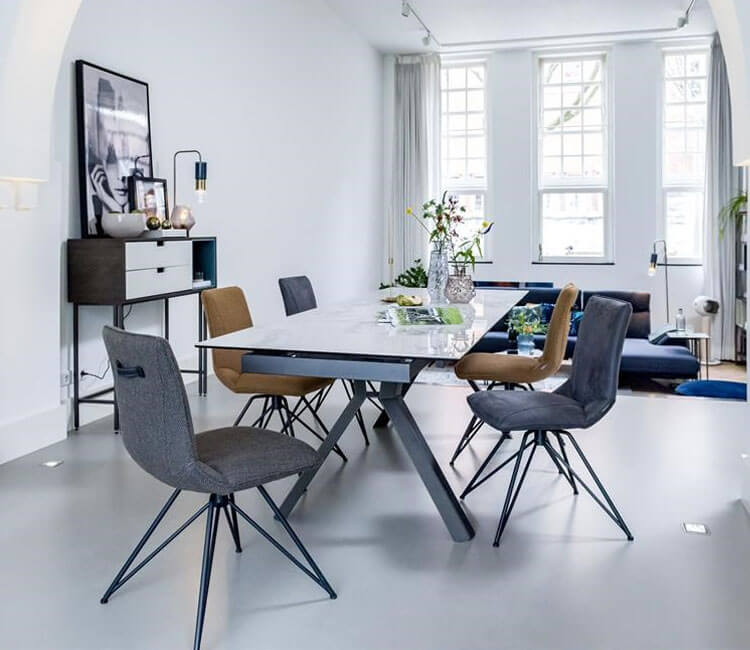 The Last Leg
Wow! You've made it this far. You must really be considering buying a new dining table. This article was created to help you in that decision process and we hope it did just that. The team here at The 1933 Furniture Company are passionate about helping our customers create spaces in their home that they love and that can be enjoyed for decades.
If you still have a burning question and would like more advice, we'd love to chat with you further! So, get in touch or call into us in-store. We have a huge selection of dining tables from the world's leading manufacturers. So, you'll know you're in the right hands. After you've made your pick, the only question remaining will be… what's for dinner?
Frequently Asked Questions
What is better, veneer or solid wood? It is a common misconception that solid wood is always of a higher quality than veneers; however, it all depends on the quality of the woodworking craft. We only supply proper veneer quality tables available in a range of finishes, each maintaining the beautiful natural aesthetic of 100% solid wood.
Should the dining table and chairs match? No, your table and chairs do not have to match perfectly, although they should be similar in style or symmetry. We encourage using different colour chairs but all in the same style for an eye-catching look. Of course, you also need to consider the colour and style of the kitchen.
What is the most durable table top? Ceramic materials are considered the most durable. It's easy to clean and doesn't absorb liquids, it's also resistant to scratches, shocks, stains, heat and chemicals.
What is the best size for a dining table? Consider the shape and size of your dining area to choose an appropriate dining table. For example, square and circular tops work better in square rooms, while rectangular or oval-shaped tables suit rectangular rooms. In each case, allow at least 50cm-70cm of breathing room on all sides to comfortably sit in a chair and move around the space.