We don't give them enough credit, do we? Our dining table bears the weight of school books, laptops, art supplies and the Friday night Chinese. Let's not forget the late-night chats when the kids are tucked up in bed, those heart-to-heart with our teens, and of course, where you savour that first morning cup of coffee (we can almost taste it).
What you're looking for should be durable but also stylish, beautiful, and well-suited to your taste. You can have the best of both worlds with ceramic! In this guide, we want to delve into the countless benefits of choosing a ceramic table and show our most popular models, so the only question left to answer will be "Who's doing the dishes?"
What Are Ceramic Tables?
Ceramics is man-made material crafted by coupling a porcelain stoneware slab with a tempered float glass. But what really matters is that ceramic has been a popular choice for our customers for a myriad of reasons. Let's dive into them now!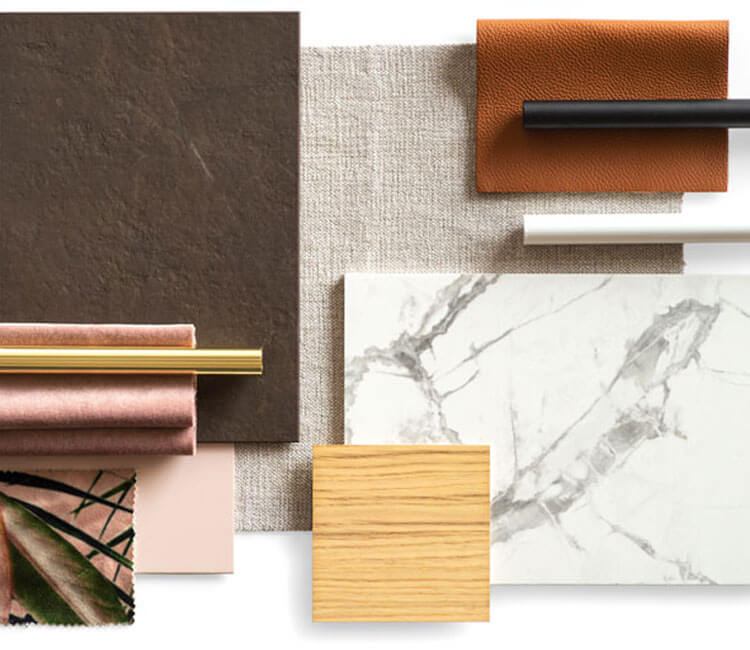 Ceramic Dining Table Pros and Cons
When picking the perfect dining table, consider its features, benefits and downsides (if any). With all the info, you'll be able to make the best decision. So, let's look at the pros and cons of owning a ceramic dining table.
The Pros:
●   Durability: Ceramic tables stand the test of time, no matter how busy or chaotic the household is! Ceramics are renowned for their durability as they have remarkable resistance to heat, stains, and scratches. Compared to other tabletop materials, they're less susceptible to surface damage caused by sharp or abrasive objects.
●   Aesthetic Appeal: There is no denying that a ceramic dining table is beautiful to look at with its standout smooth and refined appearance. Ceramics also provides a wide range of choices in terms of colours, patterns, and finishes. Whether it's vibrant or soft tones, complex hand-painted patterns, or various finishes like glossy, matte, or textured, ceramic offers limitless possibilities to create the look you're after.
●   Low Maintenance: No matter what your home life is like, you should know that your furniture is working for you. Low-maintenance furniture like ceramic dining tables is the smartest choice. You want something that day-to-day is going to be easy to clean and preserve.
●   Heat Resistant: One of the appealing features of ceramic dining tables is their heat-proof property. They can withstand high temperatures without becoming damaged or discoloured. This means you can pop down any hot dishes or pots directly onto the table without a second thought.
●   Stain Proof: Children (and us adults) can be messy. With homework, art projects and the rest taking place around this focal point in the home, there are bound to be some messes. Luckily, ceramic tables are highly resistant to damage like strains and scratches because of their smooth and durable surface.
●   Easy to Clean: All it takes is some warm water and a damp cloth. Ceramics are non-porous, meaning stains cannot penetrate the material. With regular cleaning and minimal effort, ceramic tables can stay in excellent condition.
●   Minimal Fading: Ceramic tables are known for their resistance to fading, ensuring that their vibrant colours and patterns remain intact over the years.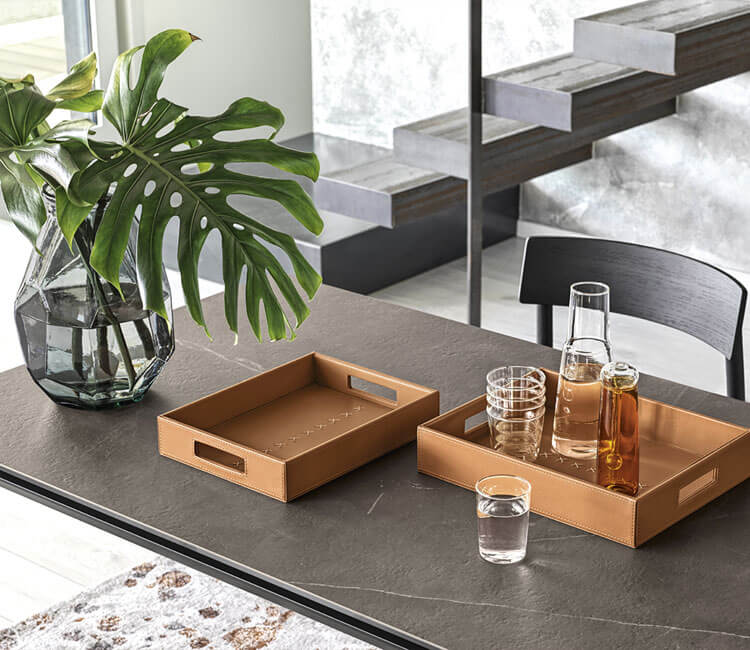 The Cons:
The reality is, choosing new furniture is a personal endeavour. Your decision will be influenced by factors such as your lifestyle, the type of space you have and your unique taste.
A couple of things to note:
Ceramic is a heavier material. If you don't plan on moving it around, this will be no problem.
As you may know ceramic is cold to the touch, unlike warmer materials like wood. This comes down to personal taste and what you'd prefer for your home.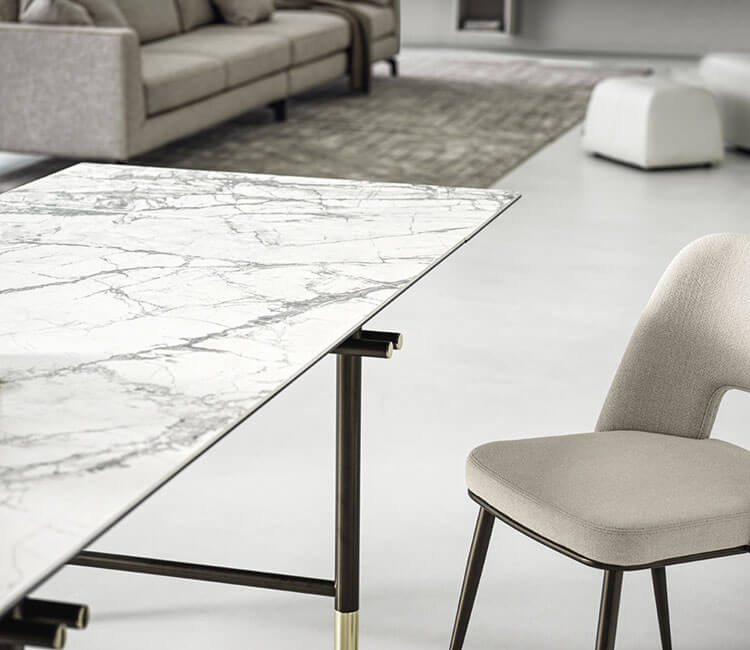 Why Choose Ceramic Over Marble?
In the past, Marble was all the rage for those seeking that classy and polished look. But guess what? Ceramics are here to give you that same refined look without all the downsides of Marble. You see, ceramics offer a comparable appearance but are way more practical. No more worrying about pesky cracks or the material being porous. It's a game-changer! In fact, most dining furniture suppliers now rely solely on ceramic to provide the desired look, making it not only equally stunning as marble… but more practical.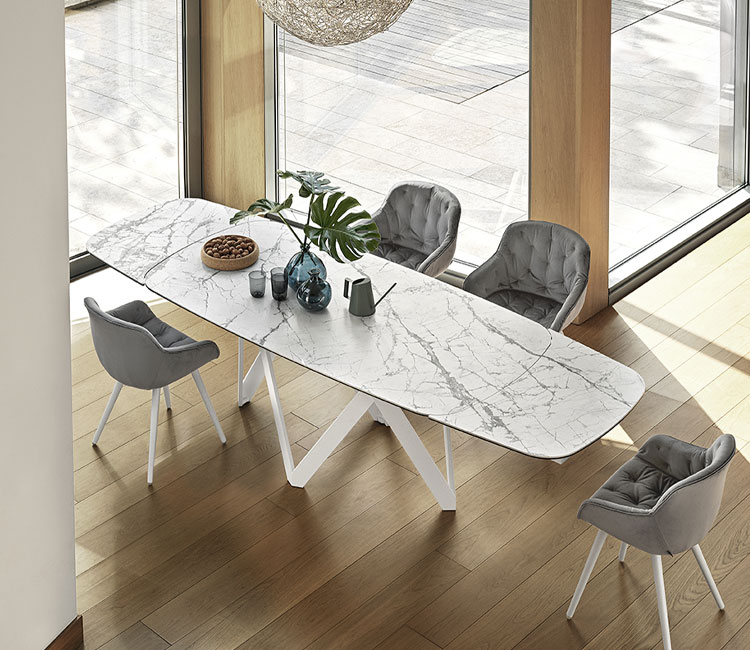 Choosing The Right Ceramic Table
There are so many options out there for dining tables. You only have to step foot in the 1933 Furniture Company showroom to see it! Before you go excitedly, and perhaps hastily purchase a new ceramic dining table, first consider the space it is going into. It would be incredibly disappointing to fall in love with a piece to find out that it will not work in your home. Here are some key aspects to consider. 
●   Size: This is crucial when choosing the right ceramic dining table. If you don't want to get stuck between the table and the wall, consider how much space you have to work with before making any other decisions. Measure the area where the table should go, and leave plenty of room for movement.
●   Size: Consider the golden rule; choose a table based on the shape of your room. For example, square and circular tops work better in square rooms while rectangular or oval-shaped tables best suit rectangular rooms.
●   Finish: Decide what type of finish you would like on the surface of your table. There are plenty to choose from like glossy, matte and lots of colour finishes.
●   Fixed or Extension: Making the most of a space is something we all value. Your house should serve your needs, and there are some clever ways to make the most of your available space. For instance, choose an extendable table with a hidden extension leaf that can be used on special occasions if you like the option of extra seats around the table. If you don't have tons of space, then a fixed ceramic dining table may work for you.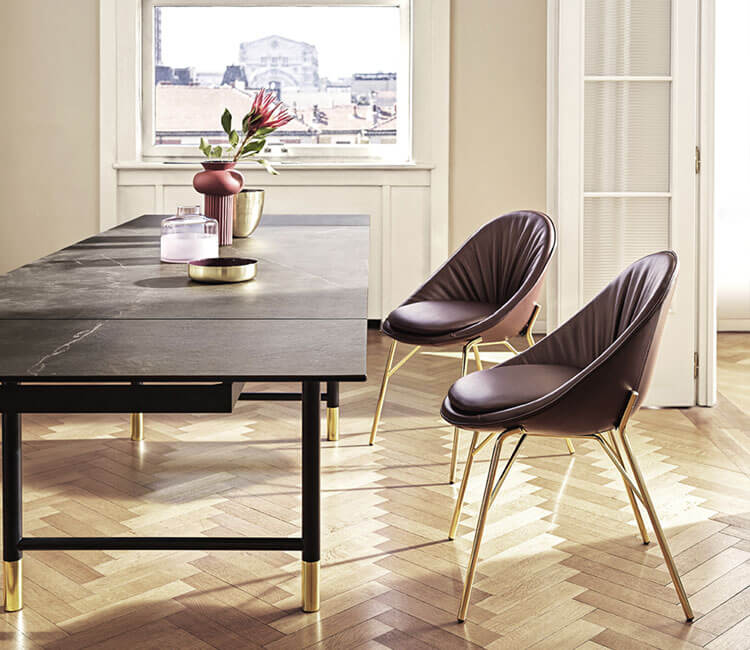 Our Most Popular Ceramic Dining Tables 
Omnia – Dining Table:  The Calligaris Omnia table boasts a suspended tabletop and easy-opening mechanism, ingeniously designed to keep the legs nestled at the corners when extended. This stunning centrepiece is available in an abundance of options to suit your needs.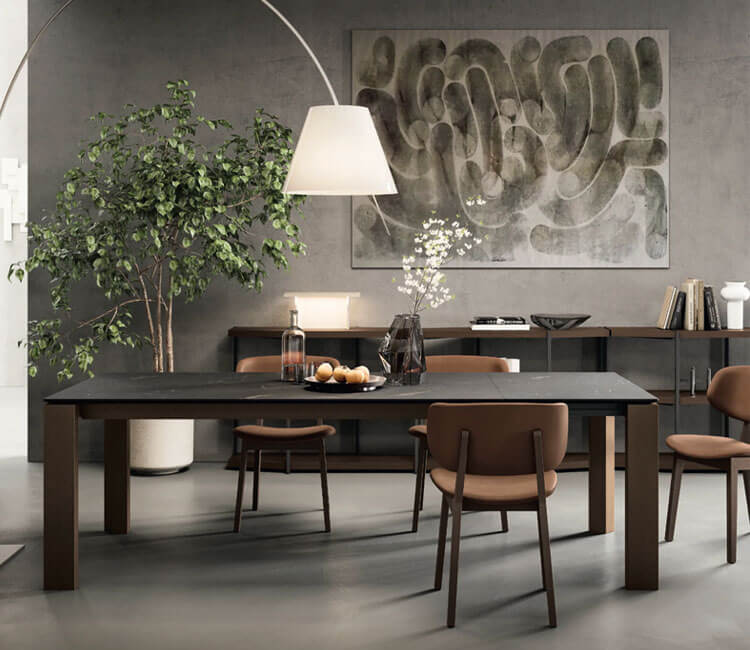 Cameo – Dining Table: The elegant oval silhouette of the Cameo would complement a wide range of contemporary home decor styles. You can select from a variety of ceramic finishes for the tabletop, and with the option to choose complementary finishes for the central column, you have the freedom to personalise it according to your style preferences.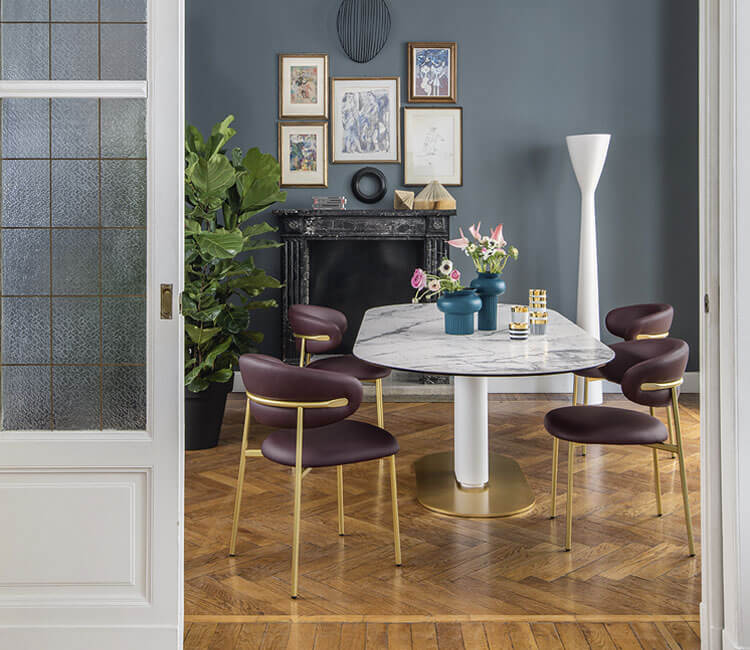 Icaro – Dining Table: This is a real show-stopper! This stunning centrepiece is available in a range of sizes and base finishes to suit your needs. Match with elegant chairs for a modern and sleek design.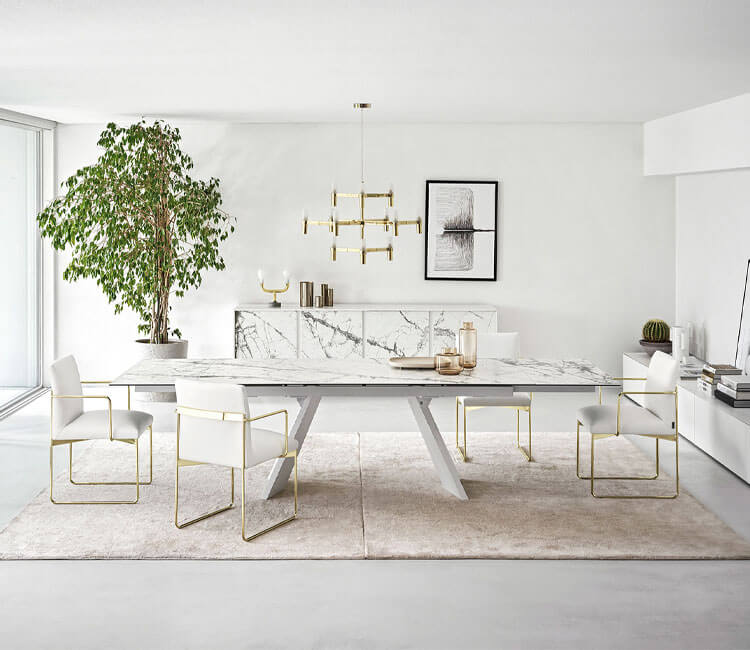 Have a burning question about one of our ceramic dining tables? Call us on (046) 9093012.
We hope this article helps you make the right decision. Creating spaces in our customers' homes that they will love and that can last for decades is something we take great pride in at The 1933 Furniture Company. We would love to chat with you further if you need more advice! Get in touch with us or drop by our store.